Do you want to feel better, live longer, look younger, and be the best version of yourself but feel like you just don't have the time to sit down and trawl the internet for ways on how you can do this? You've come to the right place.
My self care for corporates course involves a plethora of factual, educational, practical and relevant information all about the ins and outs of wellness and optimising your life to get the most out of it – all in one spot with a focus on nourishing through food and giving you the skills and knowledge to do so.
Without further ado, let's dive in! 
Let's begin. In this section, you will find some information about me, a breakdown of the course and some wellness sheets that you should complete in this beginning phase. 
Hormone balancing for Menopause
Metabolism boosting for Women
Mood Food Nutrition and Wellness
In an ever changing society, where it feels like new food trends and health advice are introduced every day, it can be really confusing to understand the right portions of food you need to consume. As an experienced chef and wellness coach, in this section of the course, I've curated a one-stop guide for you to understand roughly how much you should be eating of different food groups. A balanced diet is a colourful one, so take some notes in this section and have a go at hitting these portions in your meals! 
Now that we've had a look at the important food groups and some kitchen basics, I want you to jump into your kitchen and explore!
In this section, I have provided you with my super simple go-to recipes for different times of the day. These are staple meals in my everyday life because they are so easy to make and always go off with a hit in my household. Give them a go and see if they become your new favourites too! 
I would love to see your delicious creations so I encourage you to snap a photo and upload it to my Casstronomy Facebook page and have a chat with me with any questions you have.
Tips on growing your own produce is right here. Not only is this a sustainable and healthy way of living but it is also extremely rewarding and fulfilling. 
This section allows you to get creative in the kitchen and design your own meals! I encourage you to share your wonderful creations on here Casstronomy Facebook group. 
Firstly some information about your secret weapons to create your own culinary style.
Tips to save more on your budget can only lead to more $$ to do the things you want to do, that can only be a good thing right!
Good knife skills are vital in the kitchen, I am here to help you master the basics of culinary cooking!
A French word meaning everything in its place, this is a Chefs secret weapon of seamless and organized cooking!
In short make sure your kitchen is clean and organized before you start i.e. the dishwasher is unpacked, pantry is stocked etc.
Understand the principles of what you are going to cook, visualize yourself making your dish to make sure you have thought through each step. for example if the oven needs to be hot before cooking you will need to preheat the oven.
Get the right equipment, ingredients, bowls, cooking utensils, measuring tools.
Chunk down your tasks like wash, clean and trim everything before starting your recipe.
Have everything ready,  think through in what order you need to perform tasks and have what is needed planned out for a smooth, enjoyable session in your kitchen. 
Misenplas is in fact one of the most powerful transferable skills to long lasting change and gaining control of your self care and life.
There is a difference between misenplas in a commercial environment and a home one, however the principles are the same. So we work like a team and do it your way! 
Basic organizational skills are vital in the kitchen. Not only does it make life easier when it comes to preparation, but it keeps your head in the right spot too.
Now, lets get a plan together what works for you to keep you savvy in the kitchen.
Think ahead and have a plan of what and how you are going to cook.
Make sure you have a base recipe and workshop the ingredients you have, what you can use? Shop if necessary, Its easier if you do not have to keep heading out to fetch bits and bobs.
Prepare the equipment ingredients appropriately for the cookery method i.e. measure. peel, cut, portion.
Let the fun begin and cook, wash and clean as you go to minimize the clean up  when your done.
Clean down and put everything in its place after your meal so its easy for your next meal.
10 tips to get on track with  self care in the kitchen to keep you on track.
1. Weekend warrior  
Savvy Saturday, Ditch it Dump it, Pantry Purge. 
We work like a team but do your  way! 
Shop till you drop– Bulk buy-Garlic, Ginger, Chili Lemons, Limes, Oranges,   Tomatoes, anchovies, olives, feta, miso paste.
Savvy Saturday morning- purge any nasties from your pantry
 Take some ideas from the time saving fast, easy prep foods in the time saving tips in the section below.
Afternoon– Grow your own-place herbs in pots or somewhere somehow you fancy in or near the kitchen.
2. Sunday session
Prior preparation prevents poor performance, know what you have got that is good and where to find it, use good clear storage containers and write on them so you can see everything and have it easily accessible.
3. Plot, plan, create
Pesto's, pastes, soups, lentil braises, hot pots, casseroles, homemade tomato sauce, pearl barley, dried pre-soaked cooked frozen beans  and risottos, vegetable puree's, dips, bean smashes, stock., Wash, peel & store fresh veggies, lemon zest in oil from your lemons, mandarins and limes, garlic peeled in olive oil, ginger peeled in flavourless oil, frozen lemon juice in cubes.
4. Kiss
The secret is  keep it out of the too hard basket  (keep it simple stupid).
5. Workshop it-Use a range of healthy convenience products to help you through i.e. preserved lemons, tapenades etc.
6. Buy healthy pre-prepared foods
Remember to check the labels and packaging for nasties pre-cut vegetables. salad mixes etc.;.
7. GET organised
Have a think tank with yourself and others in your home on what you want to eat and how you can meet everyone's needs simply.
8. Have a cook off
A well stocked freezer for the too busy here and now.
9. Find like minded friends  you can swap and share pesto's , pastes, dukkas, curry powders, ferments, preserves, crackers you have made to get more variety.
10. Join a community garden or online buying group
Preserve and ferment with produce when there are seasonal gluts and swap with other members.
Understanding some good foundational skills are vital in the kitchen, the basics of mastering culinary cooking!
After all you cant build a solid house without a good foundation and with these fast tracking basics, you will soon be able to "design your culinary life".
Solve your culinary pain by saving time, money, energy and nourish your friends, family and colleagues with culinary art! 
How to cook with recipes as a guide
Understanding some good foundational skills are vital in the kitchen. Bravo to you for mastering those, now to help you in this section take your culinary cooking to the next level!
After all you cant build a solid house without a good foundation and these fast tracking tips, will have you "designing your culinary life" like a pro.
Solve your culinary pain by saving time, money, energy and nourish your friends, family and colleagues with culinary art! 
Time to nourish you with self care
Understanding that there are many things we can do to improve our lives is key to a happy, healthy life. Nourishing through food is the first step in this journey. So this section is a little starter to get you on track for designing your nourished life!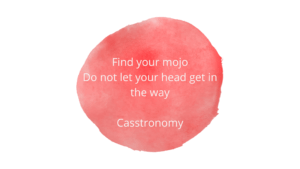 I have popped in a sample of a positive affirmations list below, now its your turn to create your very own and store it somewhere that you can access it whenever you need, in your phone, diary and repeat over and over until it comes naturally any time, anywhere;
Casstronomy's Boost your Self Worth with a positive affirmations list
Find out how you rate in your happiness compared with other Australian's in this survey.
https://australiatalks.abc.net.au/
Check out this World happiness report from 2019.
https://worldhappiness.report/ed/2019/changing-world-happiness/
Congrats! You made it, Its time for you to take action to be the best version of yourself!